The main goal of the game is to develop and support the education of high school students (14 - 19 years old). 
The project was built in ASP .NET MVC technology, using MS SQL Server database engine. Online game is compatible with all popular internet browsers.
The game simulates the processes occurring between several typical profiles of institutions (public and private).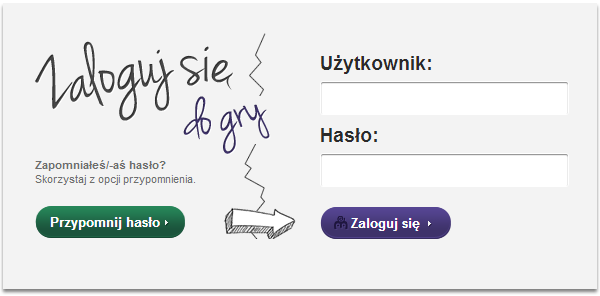 The game

is about the appropriate management of the institution. Teams earn points in a different way, depending on its nature. Members together decide how to meet an entrusted goals and get as many points as possible, because they determine a place in the rankings and future chances of winning. The team which gets the

highest score

at the end of the game wins.
The points earned by each team include

points received for performing the tasks and the amount of collected goods

(money, information and reputation). The types of tasks and the initial amounts of goods are determined by the moderator before starting the game. 
Amount of goods owned by the team, and thus

the total number of points, can increase or decrease

as a result of decisions made by members or actions performed by another team.

- analyzing the growth rates of goods and selection of appropriate values ​​of diffrent characteristics
- the execution of the tasks provided in the scenario
- gaining customers among the teams playing the game
- collaborating with other institutions
- carrying out surveys
- taking part in the tasks organized by the moderator during the game
- using the advantages (characteristic abilities)
- activities aimed at eliminating competition
- skillful negotiations.
The game is managed within one school. There is a natural division of the users - corresponding to the existing hierarchy in educational institutions (Director, Teacher, Student).
The relationship between game scenario 
and class within moderator.
Moderator - game creation and management
Moderator (teacher) is able to create his own game scenarios. Each one can be used multiple times with different preferences adapted to a specified class.
​​​​​​​
Moderator has its own gameplay view to supervise the game progress.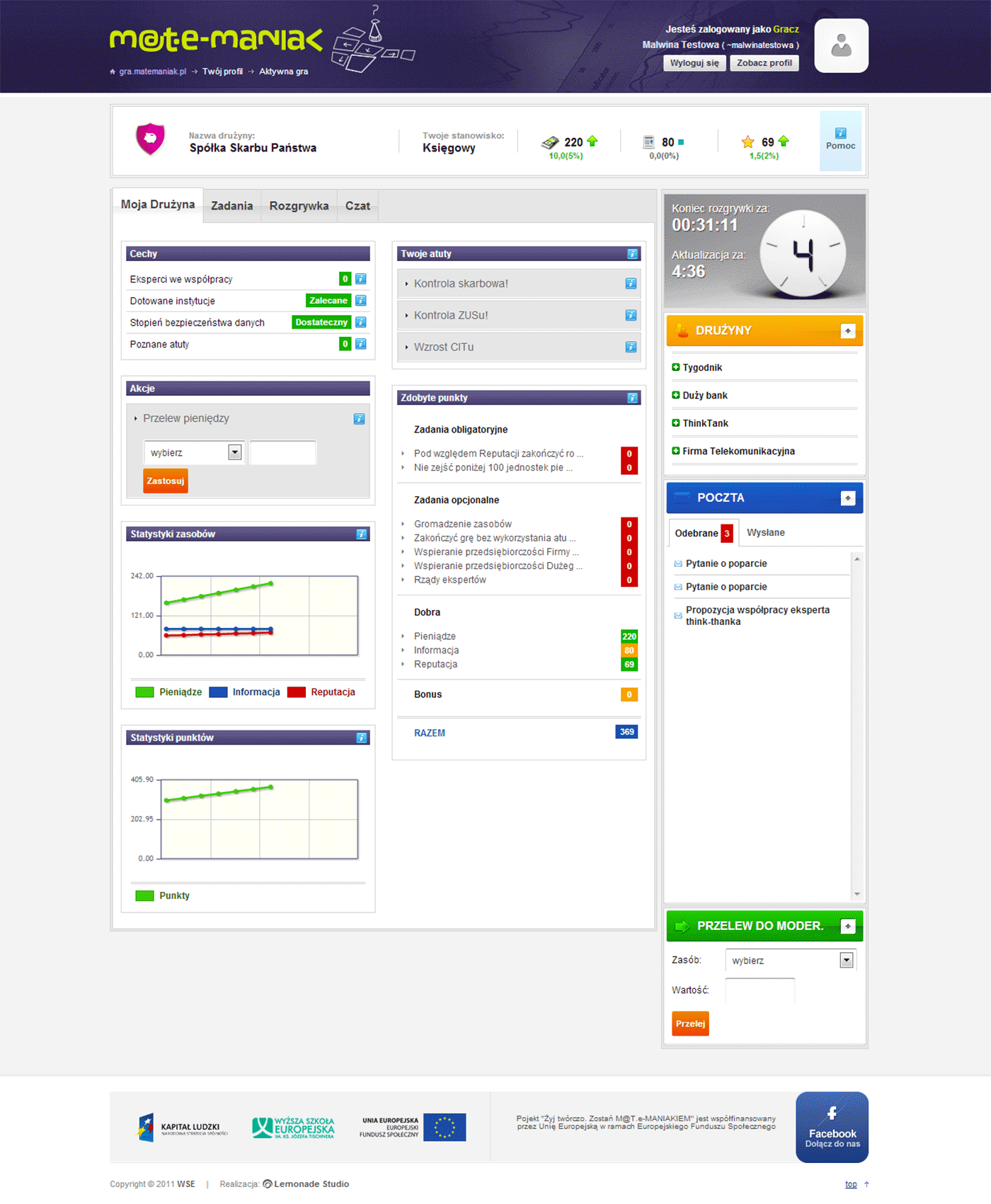 At least 15 persons, forming five teams, take part in the gameplay. Teams take on the role 
of diffrent institutions and compete against each other. Their actions have consequences 
in subsequent rounds 
of the game.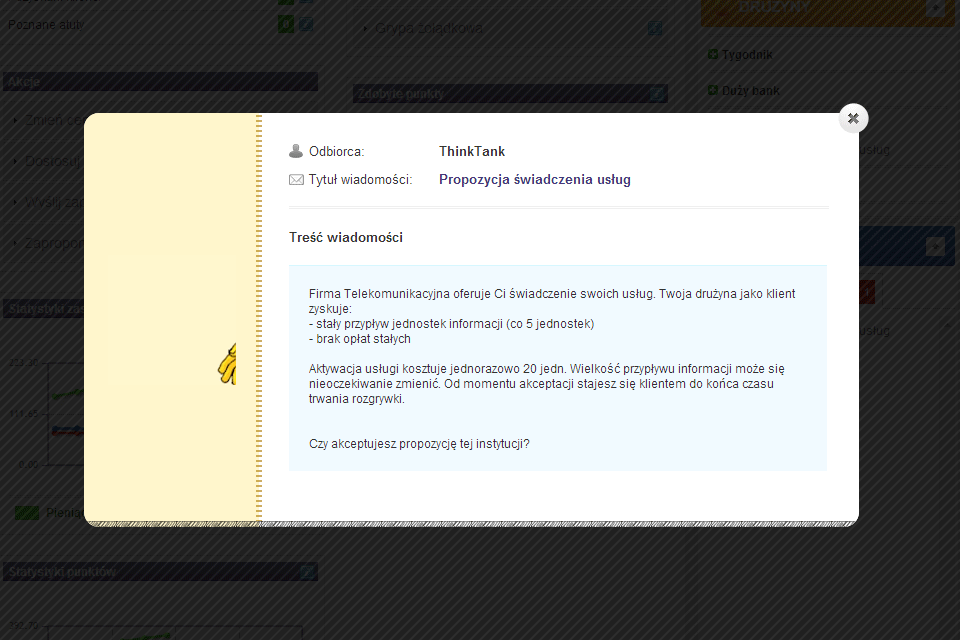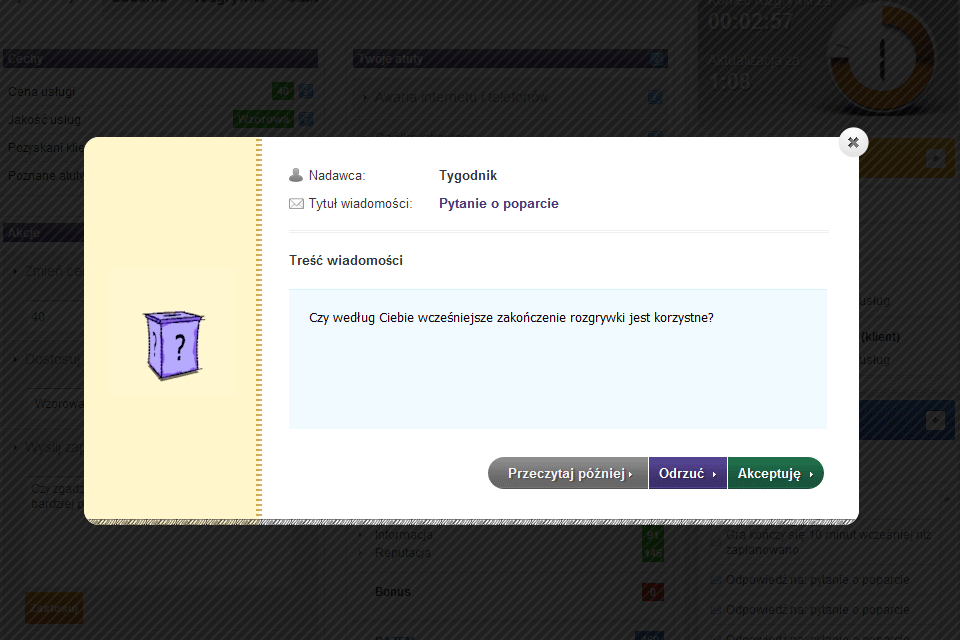 "Lemonade Studio performed the entrusted task reliably and with great responsibility for the final product. The game prepared by the company is fully functional and aesthetically made. It also received a positive external review from the Centre for Education Development and National Thematic Network for Education and Higher Education.
We can recommend Lemonade Studio as a cooperation partner."
Ewa Trznadel
/ Project Managing Director